Happy Monday, and welcome to the very first blog entry for my "Storytellers" blog series.
Today I want to commemorate something that has been a part of my life since I was about 6 years old, when I was introduced to the WWE (World Wrestling Entertainment) by my dad and brother.  At the time, the WWE was known as the WWF (World Wrestling Federation).  It was changed to the WWE in May of 2002 when the company launched it's "Get the F Out" marketing campaign. 
Back in 2000, the World Wildlife Fund (also trademarked as the WWF) sued the World Wrestling Federation, alleging various violations of their 1994 agreement when The World Wrestling Federation had violated a 1994 agreement, particularly in regards to merchandising.  Thus the company we knew as the World Wrestling Federation, soon became World Wrestling Entertainment.
I'm getting a little off topic though, the point is, today (January 22, 2018) World Wrestling Entertainment (WWE) is celebrating their 25th year anniversary of Monday Night Raw. This is incredible as the show is LIVE every Monday night, and of course, to this day,  I still watch it on a weekly basis.
I took this photograph back on April 26th 2016 when I went to a LIVE Monday Night RAW event with my dad and buddy, Tom.  It was a great night and very exciting as I have not been to a WWE LIVE event in many years prior.  Getting to go with my dad and my friend Tom, who I've been friends with for nearly 23 years, made it an incredible experience.  Not to mention we had 8th row on the floor, just awesome.

"Professional cameras with detachable lenses" were not allowed into the arena, so I brought along my Fujifilm x100.  It's a small camera with a fixed lens that's fun to shoot with on the go.  Knowing we had 8th row seats, I knew we should be able to get a few good shots.  The photograph below was taken after the show and on our way out of the arena.  As I was walking up the stairs, I turned around and saw them already breaking down the entire set.  I am always a huge fan of the process of how anything creative works and behind the scenes, so I took a second to take this photograph.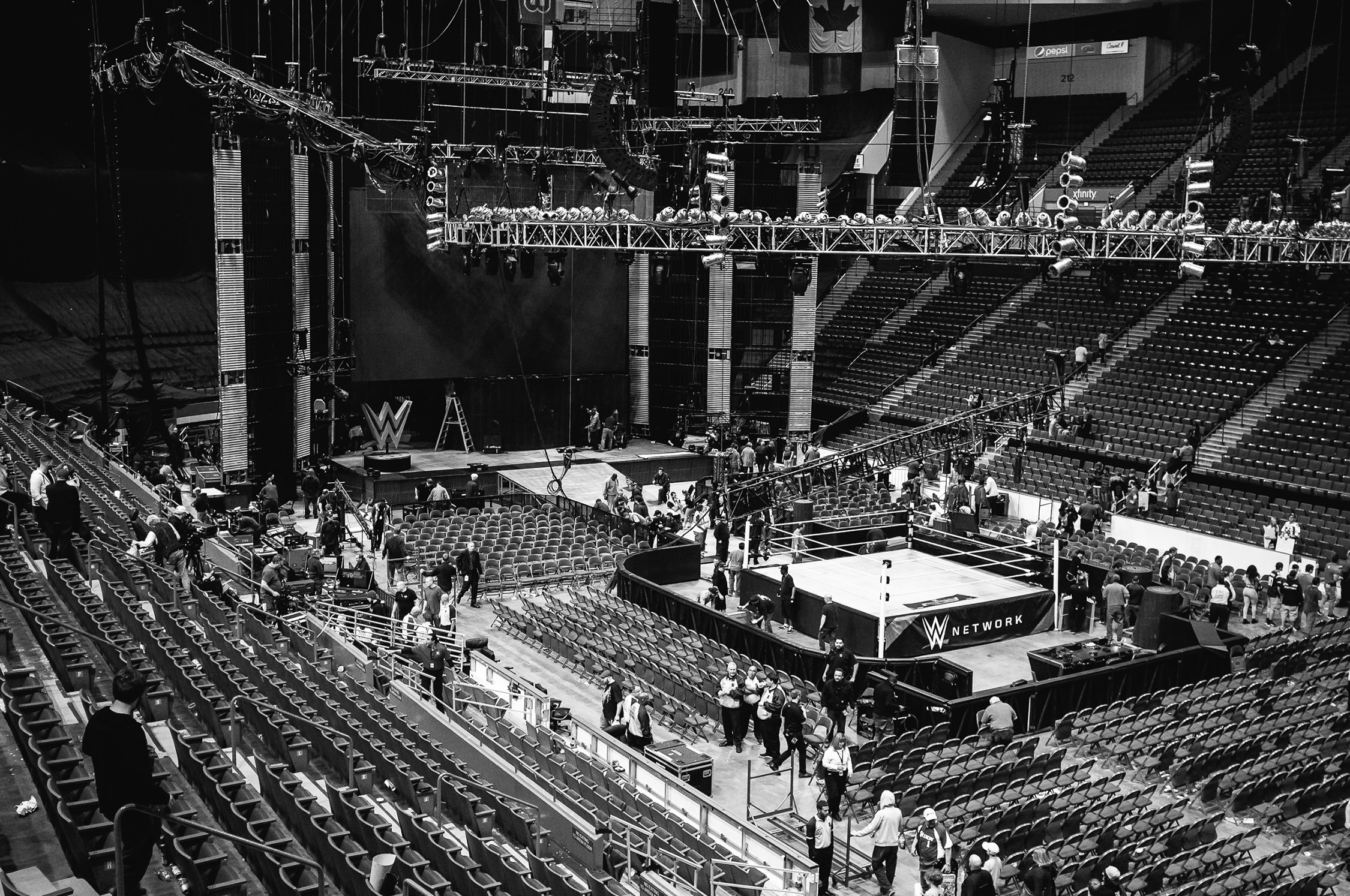 For the past 31 years, the WWE has kept me entertained.  From growing up, through all my years of schooling, including college, where I have very fond memories of watching with my college friends, all the way through today! It's simply been an incredible journey and been a real constant in my life.
I look at this photo and I see so many things.  The very first Pay-Per-View we watched (Wrestlemania 3), the six foot subs we would order for our WWE PPV parties, the years of even more PPV parties with many friends and family, one which stands out where we bought $100+ of Popeyes Chicken to feed everyone, the live events we attended, including a PPV in Hartford back in 2000, the list just goes on and on...and so many more memories I could easily write a book about it all. 

A lot of people ask me, "You still watch Wrestling!?"  All I can say is YES, of course!! It's for all these reasons, why I am still hooked. The nostalgia, the friends, my family, and of course, the continued entertainment. 
To this day, I still have WWE PPV parties on a monthly basis with friends and family.  It's one of the past times that will always be with me.  I personally want to wish WWE a big congratulations on 25 years of RAW, but also Thank You for being a constant form of entertainment and memories for me and my family.

Here's to the next 25 years and many more memories still to come.

If you're interested in the 25th anniversary of RAW, check out this short video that WWE produced for the occasion.  It shows a very small portion of highlights from the past 25 years.