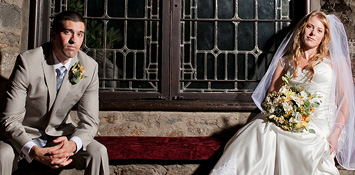 Megan & Chris - Saint Clements Castle, Connecticut Wedding
March 16, 2012
Megan and Chris have known each other for practically their entire lives. The grew up together on the same street and some years later, they got married. They held their wedding at Saint Clements Castle in Portland, CT and couldn't have asked for a better day, the weather was perfect.
It was such an honor to have the opportunity to be there on their wedding day to photograph it all. This is one of those weddings that you know are just right, a fairytale coming true. The wedding took place in September 2011 (I know, I'm a little behind in blogging), but throughout the day, I remember it was very laid back, full of love, and as you can tell from the images, a lot of fun.
Congratulations to Megan and Chris on their wedding, and now, as they have a little one on the way.