Every wedding I photograph has their very own story and it's up to me to tell those stories within the photographs I capture for the bride and groom. However, this is also a very important day for the couples parents and the rest of their families.  There are so many people involved in the wedding day process other than the bride and groom, and I don't just mean physically, but emotionally as well.  Parents and family members approach the weddings of loved ones in their own unique ways.  Everyone has the right to have their own story be told through the photographs so they can all look and feel an emotional connection just as much as the bride and groom.

I recently photographed Olivia & Tom's wedding day.  At their first meeting at my studio, I also met Olivia's mom, Terry. What a wonderful lady, totally excited for her daughters wedding and very involved, which I love!  She was very involved and from that first meeting all the way through and beyond Olivia's wedding day.  I knew from the start it was going to be a great time in getting to know them and tell not only the story of Olivia & Tom's wedding day,  but as well as their families.

The first thing Terry said to me when I arrived the morning of Olivia & Tom's wedding was, "The David Apuzzo, your reputation has preceeded you."  I was a taken by surprise, but responded, "Oh yeah? I hope it's in a good way?" Terry agreed and said she was very excited to get the day started, and yes, it was the beginning of a wonderful day!

After the wedding, Terry was super kind and emailed me a number of times asing if it'd be ok if she sent a review in for me on her personal experiences  from her daughters wedding.  I simply responded, Absolutely!  I love when the family is involved and knowing Terry, I knew it would be said with a bit of flare.

I am always honored to be a part of any couples wedding day, and I love starting their photographic experience from that first initial contact..  Even if a family is not initially inolved, I make sure they are involved.  As I have mentioned earlier, this is an extremely important day for them as well and should not be lost in the crowd.

Thank you to Terry for the review, I am so very happy that she really enjoyed herself and was able to share her experience with me.  I am so appreciative of anyone that takes time out of their life to put forth their thoughts or invove me in their lives in any way, it's the biggest compliment anyone could have.

The feeling of knowing that someone has done their research, looked me up, read other peoples experiences, took time out of their lives to meet with a complete stranger, and then put their trust in me to give them the experience I can offer to them is irreplaceable. I cherish every single bit of it and would never take that for granted.

Terry emailed me the following photo from the wedding along with her review...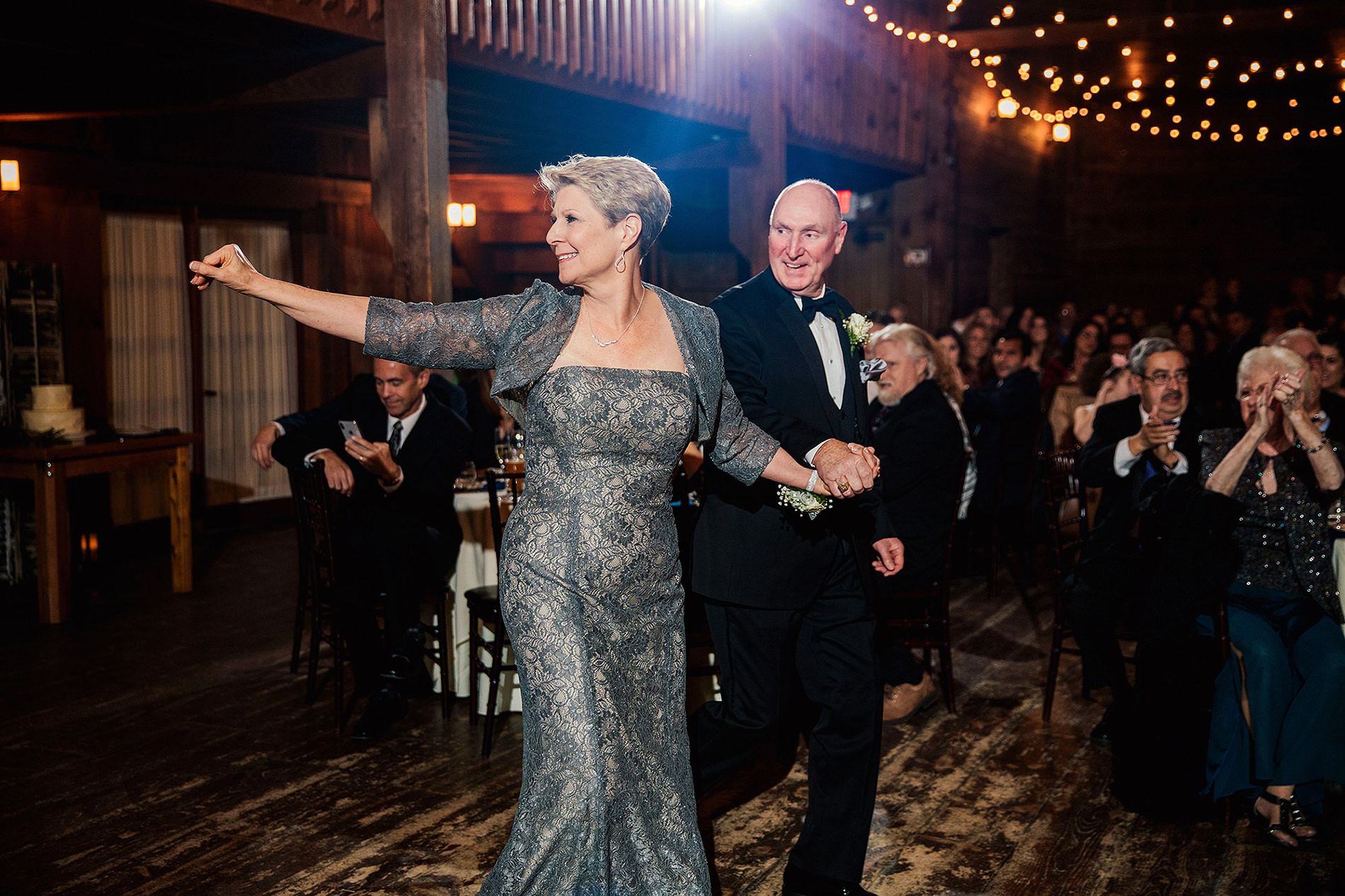 Definition of MOBZilla: Mother of the Bride/Godzilla.

  

I am the dreaded MOBZilla.

 

My daughter hired David Apuzzo to be her wedding photographer.

 

I called David and said, "Listen to me young man.

 

Your job is to capture every wonderful moment but you MUST make me look taller, thinner and ten years younger and if you don't do that I'm going to make sure that the final payment check bounces."

 

He did not seem nervous which made me scared for him.

  

Clearly he had no idea who he was dealing with.

Take a look at the picture, which MIRACULOUSLY made me look like I was on the red carpet at the Oscars and he made me look better than I could have imagined for the old broad that I am.

 

That check will not bounce.

But enough about me.

  

On December 17th, my youngest, my baby got married at The Barns in Middletown.

 

David was and IS amazing.

 

He was patient, kind, professional and organized.

  

What sets him apart is his talent and his eye for detail and emotion.

 

He captured it all with artistry.

We knew he was a winner before the event because of his ability to truly listen to the bride and what she had in mind.

  

These are the images that will go on for decades and the importance of capturing the moments on film are an essential part of weddings.

  

David understands his important role.

Further, he was able to work with the videographers and wedding planners so that everything went without drama or chaos.

  

David was able to talk old fart family members into going out in the cold to have photos taken in the gleaming snow and beautiful light.

  

His sense of humor is a helpful part of being a wedding photographer.

 

What with the Bridezillas and MOBZillas he has to deal with.

David continued to communicate with my daughter throughout the event to make sure that all was going according to her dreams.  

After the event, David worked hard to exceed his deadline of getting the pictures ready for viewing.

 

He understood we were excited to relive the day through the images.

 

There was a problem with the website and some of the images were difficult to see.

 

He fixed it quickly and called me several times to follow up.

 

It says a lot about a professional that they work just as hard to get the gig and harder to make sure that the follow up is as earnest.

My daughter and new son in law are thrilled with the images.

 

They are creative, fun, well done and he got everything they wanted.

 

It made me very happy to see them so happy.

  

And that is what we all want, isn't it, for our kids to be happy?

 

And maybe if we can get a shot of us looking like a million bucks, that's good too. 

To all the brides and mother of the brides out there, if you are looking for the VERY best in wedding photography, look no further than the talent and creative energy of David Apuzzo.

 

He is remarkable.

 

And he made an old woman look like a rock star!

 

It doesn't get any better than that!

  

Thank you David!


I can't thank Terry enough for the kind words, and I am so very happy that she put her all into this review.  The review speaks so well to Terry's personality and I love that!

You can also see Terry's review along with many others from my couples on my WeddingWire & The Knot profiles.  I take great pride and honor in working with all my couples to make sure all of them have an incredible photographic experience they'll take with them for years to come, and be able to hold onto the photographs to tell their stories from generation to generation.