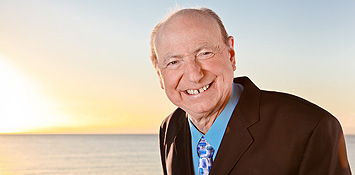 Remembering Dr. Mel Goldstein - WTNH News 8 Meteorologist
January 19, 2012
Dr. Mel was truly an inspiration to thousands of people. I had the great and fortunate privilege working with Dr. Mel on a photo shoot for WTNH News 8. I had been photographing all of the on air talent, and I must say, I was extremely excited to work with such an incredible weather icon like Mel.
I arrived to his house around 5:00am, as we had planned to do the photos during the sunrise on his weather deck. As I arrived he was sitting at his kitchen table on his phone with a local radio station giving his forecast that would be played repeatedly throughout the day.
As I started to set up the lighting equipment, one thing I will always remember from that day is Mel standing up after giving his forecast, going right over to his grand piano, and just start playing. Come to find out, music was his other passion.
It was a pretty chilly morning in November when we did the photo shoot, but we got some incredible images, and I am so proud to have been a part of not only the ability to photograph Dr. Mel, but to also get to know him in the process and be inspired by just him talking about his passions.
Dr. Mel and his wife were also so very kind to everyone, truly people to take an example from. I could not have asked for a more comfortable setting and amazing hospitality for the photo shoot. Mel was just an absolute joy to be around as he lit up the room everywhere he went with his very contagious smile, something to never be forgotten.
This was not the first time Dr. Mel and I crossed paths though. The first time I actually saw Dr. Mel in person was at my College graduation, where he was the guest speaker and predicted a bright, sunny future for us all. I am truly honored to have known him.
Thank you for the inspiration, Dr. Mel.
Dr. Mel Goldstein passed away on Wednesday, January 19, 2012.